Featured Presenters
Rushton Hurley

Keynote Speaker
Our keynote speaker this year is Rushton Hurley. He has been a Japanese language teacher, principal of an online high school, a teacher trainer, an educational technology researcher, and a school reform consultant who has worked and studied on three continents. He was one of the inaugural cohort of Google Certified Teachers and is now director of an educational nonprofit called Next Vista for Learning, which he hopes may someday save the world from ignorance.
Graduating from Trinity University in San Antonio, Texas, Rushton majored in history with a minor in religion. His two master's degrees are in Education and East Asian Studies from Stanford University, where his research included using speech recognition technology with beginning students of Japanese in computer-based role-playing scenarios for developing language skills. In the late 1990's his work with teenagers at a high school in San José led him to begin using internet and video technologies to make learning more active, helping him reach students who had struggled under more traditional approaches.
Rushton trains teachers at schools, workshops, and conferences around the United States, including in 2010-2011 keynote spots at Fall CUE in California, TETN in Tennessee, METC in Missouri, ICE in Illinois, and MACUL in Michigan. He was also a featured speaker at ISTE in Denver in June, 2010. His fun and thoughtful talks center on the connection between engaging learning and useful, affordable technology, as well as professional perspectives of teachers. In addition to his regular work, he devotes time to the community as a Rotarian and in international exchange efforts. In early 2005, he was awarded the Baha'i Unity of Humanity Award in San Antonio, Texas, for his work developing online and international programs for at-risk students. He also juggles, though he has never received an award for it.
Patrick Crispen

Featured Speaker: Preconference and Concurrent Sessions
Patrick Crispen is an Assistant Professor (Adjunct) at the University of Southern California's (USC) Rossier School of Education and is also a program manager and educational program designer at USC's Center for Scholarly Technology. Crispen received a doctorate in educational leadership from USC in 2010, a masters degree in educational technology (online) from Pepperdine University in 2001, and a bachelors degree in economics from the University of Alabama in 1998. Crispen's research focuses are the effective and efficient use of cognitive task analysis in medical education as well as the creation of enterprise-level evaluative frameworks to align existing educational technologies with the pedagogical needs of research-intensive higher education institutions.
Crispen has 23 years of experience in the field of educational technology. He was a simulations director for and founding staff member of the Space Academy Level II Program (now called "Advanced Space Academy") at the United States Space Camp, has co-authored two classroom technology textbooks, and has been a consultant for several organizations including PriceWatehouseCoopers, the United States Army, and the Multimedia Educational Resource for Learning and Online Teaching (MERLOT).
Since October 1997, Crispen has been an invited, weekly panelist on a call-in radio show on WGN Radio in Chicago. The show, the "Website Wednesday Night" portion of the "Steve and Johnnie" show, is broadcast live to 38 states and most of Canada on AM 720 and is also simulcast over the Internet. Callers from around the country ask computer- and technology-related questions which Crispen, and a panel of two other experts, answer.
Featured Speaker: Preconference
Leslie Fishers interest in technology began while studying music at the University of Southern California. She quickly realized the value of utilizing computers for music mixing and recording. She grabbed her 300 baud modem, jumped on the Internet (before anyone really called it the internet) and started looking for music resources. She soon realized she was spending more time discovering technology than playing music so she changed her major and tried to figure out what geeky thing she could do for the rest of her life. After graduating from USC with a Business and Marketing degree in 1989 and a quick stint as a Trainer, Leslie joined Apple Computer in 1992. When the Internet took off in 1994, Leslie was one of the first Apple employees assigned to study Internet growth and implementation. In 1997, Leslie was roadkill on Apple's road to recovery and part of their massive lay off. Leslie planned to spend most of her huge severance package golfing and waiting a few months to look for a job. The day after her layoff, her phone began to ring with Apple customers requesting consulting, training and presentation services. Before she could say fore, Fisher Technologies Inc. was created to help educators with their technology implementations and decisions. Fisher Technologies Inc. is now a worldwide company (meaning one employee named Leslie gets to travel the world teaching) specializing in Web Development, Web Tools as well as Digital Photography, Editing and Workflow
Kevin Honeycutt

Featured Speaker: Preconference and Concurrent Sessions
Kevin Honeycutt spent 13 years teaching art in the classroom and working with kids to help them plan for the future. A few years ago, he left the classroom for a chance to work at ESSDACK, an educational service center that allows him to research and develop programs that can help educators and learners.
This is an exciting time to be alive and his passion is to help teachers get comfortable with the technology tools their kids need for success in the future. Kevin travels everywhere trying to open new doors and develop new "pockets of possibility". Another passion is educating kids, parents and teachers on the issues of bullying, cyber-bullying and online safety. Today's parents are up against it with all of the new realities in kids' worlds. Kevin has the honor of having a career that permits him the time to research online issues and to share what he learns with people. Kevin remembers when there was no Internet when he was a kid and nobody taught him how to be and act online. This means that as a father, he has a lot to learn and to keep learning. He knows there are other adults who are missing the skills necessary to guide their kids online and kids don't always know the real implications of their online behavior
Kevin likes to bring personal life experiences and a sense of humor to the mission of helping prepare 21st century learners!
Kathy Schrock

Featured Speaker: Concurrent Sessions
Kathy Schrock is the Director of Technology for the Nauset Public Schools on Cape Cod, MA. A large part of her job deals with embedding technology throughout the curriculum in all areas and at all grade levels. Previously a library media specialist, she is very interested in search strategies, evaluation of Internet information, copyright issues, emerging technologies and gadgets, and the use of technology as a tool to support instruction. Kathy is also an Adobe Education Leader, a Google Certified Teacher, and a Discovery STAR Educator. Kathy has been an avid user of the Internet since November of 1993. She created Kathy Schrock's Guide for Educators in 1995, now hosted by Discovery Education, which is a portal of resources for educators and continues to investigate daily and add links to new sources. She has written hundreds of articles dealing with the effective use of classroom technology and has authored several books about instructional technology. Kathy has received numerous awards for her work, including a People's Choice Webby, the ISTE and MassCUE Making IT Happen Award, the NCTIES Service Learning Award, and has served on the ISTE Board of Directors and worked with the US DOE on educational technology matters.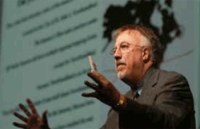 David Warlick

Featured Speaker: Preconference and Concurrent Sessions
David Warlick's unique voice and message combine a wide range of experiences, both in and outside the education arena. He ran two businesses before graduating from high school and spent more than a year in manufacturing before completing his undergraduate work. Mr. Warlick worked for nearly ten years as a middle school social studies, math, and science teacher, during which he also wrote award-winning instructional software and introduced hundreds of teachers to the educational potentials of personal computers.
In 1984, David moved to a central office position, as Director of Technology and then on to the North Carolina State Department of Public Instruction where he served as a technology integration consultant and built the nation's first state department of education web site.
Since 1995, Mr. Warlick has been the owner and principal consultant of The Landmark Project, a professional development and innovations firm in Raleigh North Carolina. During this time David has spoken at conferences and delivered workshops for educators throughout the U.S., Canada, Europe, Asia, The Middle East, and South America.
David Warlick has been an innovator and leader in the field of educational technology and a prolific programmer. His classroom blogging site, Class Blogmeister, has served more than a quarter of a million teachers and students, and his attribution tool, Citation Machine, receives nearly a million page views a day. These and all of his other web tools for teachers are free.
David has also written four books about technology, contemporary literacy, and lifelong learning, and has contributed to other publications including Technology & Learning Magazine, ALA's KnowledgeQuest, Education World, and CUE Online, and has been quoted in Education Week, The San Francisco Chronicle, The New York Times, Washington Post, and USA TODAY.
Tammy Worcester

Featured Speaker: Preconference and Concurrent Sessions
Tammy Worcester has nearly twenty-five years of educational experience. She began her career in the classroom, teaching various grades from kindergarten to middle school. While teaching, Tammy also served as the technology coordinator for her K-8 school.
For the past twelve years, Tammy has worked for ESSDACK, an educational service center, as an Instructional Technology Specialist, providing staff development and training in the area of technology integration.
Her website, "Tammy's Technology Tips for Teachers" (
www.tammyworcester.com
) is a popular online resource for teachers around the world. Tammy has developed several software applications for teachers and is the author of several best-selling technology resource books that are published and marketed nationally.
Tammy is extremely innovative and resourceful and specializes in finding unique and creative ways to use traditional computer tools in the classroom. She enjoys sharing her ideas with teachers throughout the nation and has a presentation style that can be described as inspiring.
Tammy's experiences as a parent, a teacher, a technology director, and a training specialist have allowed her to develop a strong sense of best educational practices. Those skills, coupled with her technology expertise, enable her to collaborate with other educators to build models of effective technology implementation that will have the potential to truly transform schools.